Returning to work from maternity leave is a BIG day! Kind of like the first day of school all over again, a mixed bag of excitement and nerves and feeling like the new girl again. And of course, there is one burning question at the forefront of every mother's mind as she counts down the final days. No actually, it is not "How will my poor darling child survive without me" but rather, the age old rhetorical, usually uttered as a juvenile wail "WHAT THE FUUUUUUCK AM I GOING TO WEAR?"
Forget about sleepless nights caused by teething, you are more likely to toss and turn in the days leading up to D-Day with thoughts of your return to work outfit. The script of your inner voice will look something like this:
"Oh Jesus, I need to get the bag of work clothes out of the attic soon"
"OMG, was it really 12/15/18 months ago that I packed everything away?"
"Hmmmmm, can't really remember now what was actually in the bag of work clothes, I think I fired in anything with a waistband once I was 4 months pregnant"
(Starting to panic) "Hopefully something fits me"
(Nervous high pitched laughter) "Something surely will fit me, right?"
(Slumps) "What if I hate everything or it's all completely out of date and untrendy…….."
"I don't want to be the fat, frumpy, untrendy aul one of the office………."
"I want to be like Miranda Kerr getting off a transantlantic flight – cool, coordinated,effortlessly stylish….and skinny"
(Delusional reassurance) "Sure I've lost a fair bit of the baby weight and I've been doing my walking……."
(Sitting bolt upright)  "FUCK, I'm going back to work in a week, I need to join weight watchers,lose 2 stone and invest in a whole new wardrobe  by next Monday!!!!!!!!"
Sound familiar? If so then here's my step by step guide to putting together a return to work outfit that will make you at least look the part, even if your mental state is questionable at best.
So let's assume that you work in some sort of office type environment that is of the usual semi-formal, smart casual dress code of modern day corporate Ireland. Let's also assume that regardless of how many millions you have just handed over in crèche fees, you are going to go shopping, that's just what us ladies do in these circumstances.
Laying the foundations: You need to start with your underwear. Believe it or not, if you have been on leave for the best part of a year you have probably let your standards slide in the lingerie department and have been probably wearing the same three nursing bras on a loop (breastfeeding optional!). Plus, your poor aul boobs have been through an awful lot over the last while and may have changed forever in the process, it's time to treat them again! Go get measured in M&S and get  some nice, grown up, new bras. I'm also a big fan of Calvin Klein bras and their store in the Kildare outlet always has some great basics at really good prices.
Make sure the trusty spanx/hold in knickers are to hand as they will work wonders under work dresses and trousers in helping to get the right silhouette. And don't forget you may need to invest in some new G-strings to avoid wearing your granny pants under your work trousers. You may be a busy working mom now but there is NO excuse for the dreaded VPL.
Shops: M&S, Calvin Klein (Kildare), Dunnes do great hold in knickers
Tights: So every Irish lady needs a few decent pairs of tights to hand. Since we enjoy that uniquely Irish climate known as "year-round winter" most of us will be wearing black opaque tights pretty much all the time. So no matter what season you plan to return to work I can guarantee that you will need some nice new tights to hand – black opaque in a heavy denier and you're sorted. Do not make the mistake of leaving your maternity tights in the drawer and wondering why all of your tights have suddenly grown a pouch and don't fit you anymore. Bin those bastards as soon as you get the chance.
Shops: Dunnes, Pennys, Wolford, M&S
Footwear: Even if you were the queen of the high heels pre-baby, just remember that it's probably been a while since you wore proper heels for 8-12 hours straight and also bear in mind that you will most likely be doing a  childcare run involving hoisting a maxi cosy out of the car and waddling under the weight of car seat plus infant to the drop off point,  then a sprint back to the car as you realise how late you are for work. You need shoes that can look stylish and work appropriate but pack a secret punch of practicality and comfort. While flats are great for driving and running around, the bottom line is that they just won't make you feel as good about yourself as a nice heel. Every inch counts towards making you feel taller and slimmer and arriving back to work with a presence.
Enter the perfect shoe –I discovered these bad boys recently in Marks and Spencer and have been evangelizing about them to all my work girls ever since. They are affordable, comfortable and stylish and their classic style means you can wear them with any outfit, all year round. The added bonus is that M&S are one of the few remaining shops that do half sizes so I went up half a size and they are the perfect fit, so comfy and genuinely wearable all day long. In black and nude patent and at €35 a pair, you would be mad not to get a pair in each colour. The cost per wear you will get out of these shoes will soon be in the minus figures.  And the lady in M&S reliable informed me that they are stocked all year round.
Other tips for a return to work heel – a block heel or a wedge shoe
The clothes: So obviously the options of what to wear are endless (which doesn't help alieviate the panic). Blazer and trousers, skirt, suit, jeans, dress etc. are all acceptable work wear and all come with their own pros and cons. In order to stay focused and kill lots of birds with one stone, I am going to make that decision for you and narrow it down to one recommendation ….the wrap dress.
A good wrap dress (or wrap effect) is a must have in every working moms wardrobe. It is flattering on every single body shape, is dressy enough for any office environment but casual enough to be comfortable and appear that you're not trying too hard. Plus the biggest bonus of choosing a nice dress is that it is your whole outfit in one and you can avoid all the challenges of trying to match separates and find the right shoes to go with trouser lengths and tops that will cover waistbands etc.
With the right underwear and good tights, a good wrap dress will sit well and give you a lovely shape, it will flatter boobs, disguise bellies and give you a proper waist and overall feminine silhouette. If you are top heavy or carrying a bit of extra weight then you can wear a vest or shirt under the dress or a nice long cardi or blazer over.
The best places to find a good wrap/effect dress are:
1. DVF – Diane Von Ferstenburg pretty much invested the wrap dress and cannot be beaten in terms of fit, quality and lifelong value. Yes, we are talking designer prices here -a DVF dress will set you back about €400. BUT if you are looking to invest in a really good dress that will last you for years and you can rely on for all manner of dressy day time occasions then you literally cannot go wrong here. Sizes are also generous which will make you feel great about yourself. If the pricetag is a bit much for you, fear not, use the website to check out styles and then look for clever replicas on the high street.
DVF dresses are stocked in Brown Thomas and BT2 and can be purchased online from netaporter.com and theoutnet.com (keep an eye out for the sales on the outnet and you may be pleasantly surprised)
http://eu.dvf.com/dresses/wrap-dresses
2. Phase Eight – this is a great brand for exactly the kind of dresses I am talking about, thick jersey, wrap dresses with sleeves and flattering cowl necks. You may not have heard of them because they are a UK brand and are only stocked in Brown Thomas, however they do ship to Ireland so you can buy online too. I can promise you that you will find the perfect return to work dress in Phase Eight and while still on the higher end of the price range (about €100) they have great sales where you can pick up a fab dress for about €50. And the big bonus, nobody else will have it!
I absolutely love this heart print dress, navy is a gorgeous alternative to black and you will sashay back into the office in a pop of colour and fun. Currently on sale at €49!
And currently this fab black number is on sale for €46, you CANNOT go wrong here.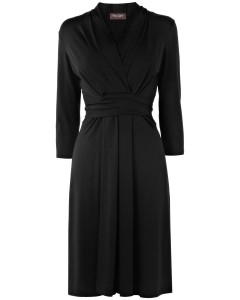 3. Dunnes Stores – Admittedly, Dunnes tend to have a better selection of wrap style workwear dresses in Winter than in the Summer but they have made it onto my list as I have got some gorgeous dresses for work here over the years, especially from Savida and Gallery. I got a fab wrap effect red dress in Gallery just before Christmas that was only €35 so well worth keeping an eye out in Dunnes when their Autumn/Winter collections arrive.
4. Marks&Spencer – I'm a big fan of M&S dresses if for no other reason than the fact their range is so vast. If time is limited, you can make M&S your only shop, safe in the knowledge that you are guaranteed to leave with something. Their clothes are very good quality but wearable and washable too. I love their autograph and limited edition ranges for some really stylish and "could be designer" numbers but for staple work dresses, M&S really holds it's own too with secret support dresses, very reasonable basics and lots of comfy day dresses that are pretty and stylish enough for work. This lovely wrap style is on their Irish website for €54.
5. Oasis – I'll be honest, I don't actually buy a whole lot of stuff from Oasis, but I would still always rate them when it comes to looking for a nice dress. They always have lovely feminine dresses and their fabrics and prints are always so pretty and nice for work. Think polka dots, heart prints, florals. Oasis is always an option for a flattering wrap style too. I found this little stunner online. It ticks all the boxes, respectable neckline, sleeves and a really flattering knotted waistline. It comes in a gorgeous royal blue or red (two of my favourite colours) and it's only €37!!!!! Sure you may as well get one of each
The accessories
If you have to sell your soul to the devil, try to find some time to get a blow dry the day/night before your return to work (Top Tip, try not to go back on a Monday if at all possible!)
Failing the above, make some time to wash/dry your hair properly the night before
Do your nails or even better, get somebody else to do them for you. A good blow dry and manicure should be part of your back to work treat to yourself.
Dig out all your nice jewellery and WEAR IT! Nice ear rings especially and a necklace since your little one(s) will usually be swinging out of them chances are you haven't worn any jewellery for the last few months
Dust off your best big handbag – DKNY and Michael Kors are top of the pile when it comes to quality, classic, large shopper style bags that are perfect for work
Don't forget to put your make up on, even if it is a half arsed job in the car its better than nothing
 The outerwear
A classic beige trench coat is perfect for any time between April-September. Zara, Mango and Massimo Dutti always do lovely trenches.
October through March – make sure your good black winter coat still fits you, get it dry cleaned to spruce it up and off you go. If you don't have a good black winter cost then make a beeline for Zara. (Top tip: if your good winter coat is now a year or two older since you've last worn it then give it a really quick facelift by it by changing the buttons. Good buttons will make a coat look way more expensive than it is!)
Hopefully the list above has given you a good shopping list and a few tips to prepare you for the big day. Best of luck and big hugs.
Avril