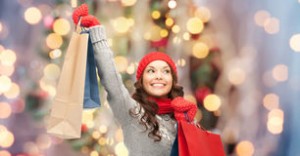 Happy November! Now that it's officially Winter and party season has arrived, I've put together a really quick shopping guide to cover off the major trends to help you shop for your Winter wardrobe!  Just follow the tips below and you'll be ready to rock in no time.
Velvet:
Velvet is EVERYWHERE this year. If, like me, you are of a certain age, you'll probably have flashbacks of being trussed up in an 80′s velvet flouncy dress at Christmas time. But strangely enough, rather than being allergic as a result, I am really loving the velvet obsession. Its so luxurious and dressy and perfect for occasion wear at Christmas but it can also be dressed down too with casual accessories. It's so sexy and gothic and dark,  you'll deffo end up fancying yourself just a little bit wearing velvet.  :)  All the high street stores have embraced the  trend with gusto so you can dip your toe in the trend in  the form of a little clutch for party season or a velvet choker,  you could keep it simple in a plain black velvet skirt or dress or go full on 80's glam in a bodycon coloured number, coat or boots.
Burgundy: 
Burgundy is the colour of the season! Think rich claret tones and dark deep reds – very "Interview with a vampire" and actually goes very well with the velvet trend above. To really nail the fashion victim style this year think a rich, deep burgundy velvet number. Keep this colour in mind if you're investing in a new winter coat, boots or handbag as a change from the standard black.
Over the knee boots
Again these are EVERYWHERE!!! Not for everyone, but if you're going to do Winter boots then get stuck in to the over the knee trend. Usually seen on the nine foot tall model gang, it can intimidate us shorter arsed ladies, but they actually work well on all heights. Kourtney Kardashian is a huge fan and she is tiny. If you want to play it safe, go for black and wear over thick black tights or leggings with a plain baggy jumper-dress to keep it understated.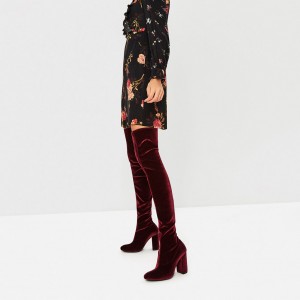 Velvet boots €69.95 Zara
Wrap coats: 
While the military style has always been a firm favourite of mine, unfortunately buttons are out of favour with the fashion crew this year. Think big lapels, feminine wrap styles and big belt tie fronts. If you're investing in a new coat this year then you can't go wrong with a cross over wrap style. Head straight to Coast and Ted Baker – an investment winter coat from either will last you for years!
Camel: 
This is the other colour obsession this season. So if you are going to invest in a new coat then a camel wrap number will hit the style jackpot. Again, a nice change from black, goes with everything,  suits all skin  tones and is softer and warmer than harsh black.
Winter florals:
Flowers are still in but the pretty spring summer prints have been ditched for edgier, bigger flower prints. A strong floral print on a black fabric is perfect for this season and breaks up the head to toe black hole we're all guilty of falling into from  Halloween onwards.