So it's that time of year again in Ireland, the rite of passage that is Confirmation and Communion season. (Full disclosure here, I opted out of all the catholic stuff many years ago so I won't be partaking myself, but that doesn't mean I can't still help with some outfit planning!)
I don't know if it's just me but confirmation and communion celebrations seem to be getting bigger and bigger every year. Not bigger in the sense of flashiness that the Celtic Tiger days enjoyed  with limos and marquees, but more so in the importance in the family calendar as an EVENT! And with any big Irish event, it's the mammies who will usually do the lion's share of the planning and organising, including stressing about "The Outfit".
The biggest factors to take into account when planning your outfit are as follows:
It's usually a really early start – you don't want to be a sweaty melty mess by 2pm
It's in a church - so you need to be respectful and church appropriate
There are children involved!
The event will be held in Spring/Summer – so even though the Irish weather is unreliable at best (and generally shite at worst!) you will need to inject a bit of colour and freshness
There will be eating, drinking and a fair bit of standing and moving around involved - this is not the day to go for the bet on bodycon number and 6 inch heels
So keeping all the above in mind, here's a few of my tips and outfit ideas for you. It is a big day for you and you want to look and  feel your best (and photos last forever!!!) so why not pull out the stops and wear something that makes you feel amazing and suits your personal style.
I am a born organiser and control freak and firmly believe there is no such thing as being too organised for any event or planning too early. You will be up to you eyeballs organising your precious offspring and partner and planning the celebration meal/party so make time for you!!!!! Go shopping, try things on, look at styles you like on Instagram or Pinterest, order online to get your size. Work back from the big day and  book  your appointments. I insist you have nails, toes, blow dry and tan done at least!!! If you can manage to squeeze in your make up application on the morning then go girl, but at least get the other stuff done in the days leading up to D-Day.
Mama is going to be on duty big time on the day so you need to be practical when it comes to the outfit planning. If your kids are anything like my kids then EVERYTHING will get passed over to you to "mind". So you need a big handbag where you can dump cards, tissues, rosary beads, spare hair clips, bottle of water etc.. You also need shoes that you can wear all day and run around after younger kids in as well as stand around in at the church and school. This is not car to bar territory trust me! I love my shoes and always feel like a bit of a sell out or a granny if I go for the comfy option so you need to be smart and go for a heel that has a platform support, a wedge or block heel or just a really comfy shoe that you can rely on.
And now for the outfit suggestions. This is just a selection to get the thinking caps on, remember everyone has their own personal style and now is not the time to go for a completely out there look or something you would never usually wear as you will just end up feeling awkward. Be yourself, be comfortable, wear a colour that you know suits you, get dolled up so you feel glam and then sit back and let the compliments flow and enjoy yourself.
 GREEN QUEEN
Green is the absolute colour of the moment and it is such a fab, fresh colour for Spring/Summer. You can't go wrong with choosing bright green for the big day. Here's a few different ways to wear it, full on green or as a  background colour with a nice floral print.
THAT'S A WRAP  
A wrap dress is so flattering on all shapes and sizes and a nice wrap style with sleeves is perfectly church appropriate. Once you pick a dress then it's all about glamming it up with fab accessories to really take it to the next level.
SUITS YOU SIR 
Why not consider a suit style for the big day. This is definately my kind of style, a bit different but very dressy and feminine if you go for the right fabrics and colours so you won't look like you're heading for the  boardroom.
Mustard slouchy style  suit from River Island:
Silky kimono style suit from Zara
Pink tailored suit Zara
 A FEW MORE IDEAS……………..
Very nice black  and red dress from H&M that's very Spanish in style and would be lovely with red accessories and a nice red lippie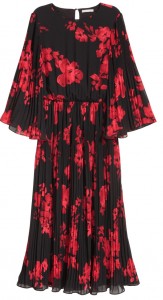 If you're style is a bit more conservative or formal then this preppy style skater dress from H&M would be very nice with a black or white blazer over it and bright green shoes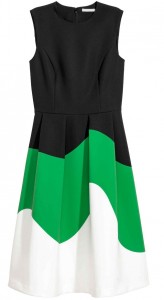 Gold is such a classy colour and a lovely daytime colour too as it's soft and subtle. Best on darker skin tones  (i.e. get the spray tan done!)  This patterned gold dress is from Mango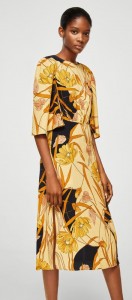 I'd love to hear your thoughts or outfit planning ideas so please comment or let me know if you are on a mission for find something specific and I'll happily help with the research.
Happy shopping and enjoy your big days
Avril x